EcoClean Feeders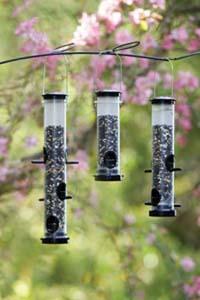 Keep Bird Feeding Clean with Our EcoClean Feeders!

Spring cleaning is a snap for backyard bird feeding hobbyists when you use our EcoClean® feeders. Available only at Wild Birds Unlimited, our EcoClean feeders and accessories are the most advanced bird feeding products available.
EcoClean products feature Agion antimicrobial product protection. It is a patented technology based on silver ions that is a material preservative to inhibit microbial damage on treated surfaces. It is environmentally friendly in the manufacturing process and environmentally safe for use in your yard. This product protection won't wash or wear away.
Of course, EcoClean feeders still need to be kept clean from normal grime and droppings. We recommend regularly cleaning them with warm soapy water and a scrub brush. It is not necessary to use a bleach solution to clean or sanitize EcoClean feeders.
Our EcoClean Seed Tube Feeders feature the antimicrobial product protection as well as our Quick-Clean™ removable bottom; making them the absolute easiest-to-clean feeders on the market. A quick press of two buttons and the removable base makes cleaning a snap.
Ever notice how finches feed from the top of finch tube and finch mesh feeders? Use our WBU EcoClean® Finch Tube or Finch Mesh Feeder featuring our Quick-Clean removable bottom, and refill from the bottom. This helps prevent clumping and promotes "first seed in/first seed out" rotation of the seed. These features and actions help you manage the food and keep the birds happy.
Stop by the store to see some of our other EcoClean products that you can include in your bird feeding stations to make spring cleaning a snap!